Children's Circle Mission
Guatemala Missions Trip 12/2018
Pastor José Vasquez from Grand Rapids MI, who is a native of Guatemala, mentioned the need for a new church building in his village in Guatemala. Our mission is to help the elders rebuild their church which was sinking due to the earthquake. Children's Circle Mission (CCM) also planned to spend time with the children from the church and their families. We would share with them the gospel, gifts and a meal for Christmas 2018 and if it is the Lord's will, find a child or two who many need corrective medical care in the USA.

On December 17, 2018, my husband Nancumar, Pastor José and I flew to Guatemala. It was CCM's first trip to Central America. We arrived at La Aurora Airport in Guatemala around 2:00 p.m. that day then headed to the Euro Hostel to spend the night. The next day, our driver and an elder from the church loaded our luggage into and on top of his vehicle and journeyed from Guatemala City to a small village, Comunidad Agraria "Emanuel" Nuevo Progreso, San Marcos Guatemala. We were on the road for 8 hours though the distance was 200 miles.


Dec. 19, 2019, sister Dorcas and brother Mike had a church service at their house. Despite the heavy rain many people with young children attended. The next day, the ladies from the church gathered firewood to cook lunch and dinner. At Midday, a few men set up a temporary water pipe close to the cooking area so the ladies can wash the vegetables and meat and prepare the meals.

While the ladies were busy preparing food, a few of the elders showed us the blueprint/plans for the new church building. The estimated cost is $43,000 US dollars, for an open floor plan, seating 180 people. Their dream and goal is to complete the building in four to five months but they do not have the funds needed to do so. They have 3,000 Quetzal = $400.00 US dollars. CCM agreed to donate $5,000. They were all excited and started clapping.
In the afternoon, the children and their parents came to listen to Pastor José's sermon. I shared the verse John 3:16 and we handed out Spanish Keys for Kids devotionals and solar-powered Bibles with 365 days of devotionals. We also handed out shoes, socks, toys, and first aid supplies, etc. donated by GE aviation. It was heartwarming to see the smiles on the faces of the children and their families as they headed for the table with the gifts.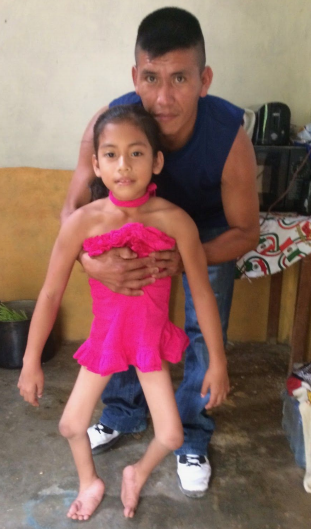 We met two children in need of medical care. A five-year-old who needs long-term care and a 12-year-old girl who has arthrogryposis, she gets around on her hands
and knees. Her mother is blind. My husband and I played frisbee and soccer with the children, they were happy to have us play with them.

We thanked our Lord and Savior Jesus Christ for the opportunity to meet such loving, hard-working people who appreciated the gifts, the Gospel and the monetary support
for their church building. Our trip was possible because of the loving, caring, compassionate people who supported the Children's Circle Mission through prayers
and financial gifts. We pray that together we can help the elders with more finances to complete their building.
"Do not withhold good from those who deserve it, when it is in your power to act."
JESSIE AND JARI RODRIGUEZ
Dear Family and Friends,
The violence and deaths of the social political crisis inNicaragua have slowed down since the peak of summer. The road barricades, called 'tranques' have been removed by the government. Police and paramilitary groups were sent in to remove the barricades by force. The Nicaraguan people are still enacting civic protests.
The largest commercial alliance in Nicaragua, the Superior Counsel of Private Enterprise, has called for national strikes. During these strikes every business in Nicaragua is closed. Nationwide commercial activity stops for twenty-four hours. Gas stations, markets, restaurants and other businesses close down in civic protest. Even the largest open air market in Central America, Mercado Oriental, closes its shops. In September we witnessed a third national strike, calling for the release of political prisoners. The effects of this type of economic protest are impressive. The roads are empty and the air is silent. Very few people are out in the city. Imagine every business in the entire state of Michigan closing for twenty-four hours! Nothing along Interstate 94 is being transported. Every Speedway, Meijer and Walmart is closed!
My name is Pastor Jeremiah Kuria, currently serving here in Kenya with Africa Inland Church -Ruiru. I am serving a church in one of the rural villages in Kenya and at a very humble village called Ruiru in Mai Mahiu. I also run a ministry that empowers women and needy children with special needs known as Ubuntu foundation. Our church has been growing steadily over the last couple of years. We now have about 70 adults and 125 young children. Due to the poverty in these dry or semi arid area we work to meet not only the spiritual needs but also the physical needs. We have to feed a few families who can't make ends meet and also put effort in looking for ways to help them provide for themselves. I preach every Sunday and my wife have organized another team to support children with evening and weekend tuition. Some children in seventh grade couldn't read or write and we needed to intervene. So far, the ministry has been going well. We feel blessed. The needs are many but we live one day at a time.
Encourage our active missionaries
Write an encouragement, question, or prayer and we'll connect you via email.
AGR walks alongside women and men who are experiencing challenging circumstances, such as an unplanned pregnancy or poverty, by providing a safe place to make choices. AGR empowers to thrive by offering comprehensive care through free and confidential services including pregnancy and STD tests, one-on-one mentoring, single parent support groups, pregnancy education, parenting classes, GED completion, English as a second language classes, and material resources. People enjoy serving either individually or in teams. For more information about the ways to plug into AGR, the website is www.alphagrandrapids.org.
Bridge Street House of Prayer
In the west side community, Ryan and Alia Waalkes started quite a number of years ago a ministry to the poverty stricken households there. Individuals or groups can come alongside in several ways: participating in the Afterschool mentoring program aimed at the middle schoolers of Westwood, just hanging out in their coffee shop called The Pavillon from 12-5pm M-F talking with drop-ins, getting involved in the remodeling process for the Youth Center, help get kids to school,and get involved with people from Tribes when we do activities at Westwood Middle School. Contact Ryan at 616-340-6156 for current details.
Children's Circle Mission
Lita and Nan Kharmai founded a 501c3 ministry that "connects the dots" for children around the world who have significant medical challenges, to the medical community in the U.S.. Providing medical care not available to them where they live, Nan and Lita identify the need and get these kids to God-ordained places in the U.S. to help them. Their needs are praying for the kids and the process and financial support. CCM is based in Rockford, MI and the website is www.childrenscirclemission.org
This long-established ministry in the Heartside community of downtown Grand Rapids gives single folks, marrieds and families the opportunity to serve on a weekly or monthly basis in several areas: working in the dining room, hosting an activity or event, organizing a drive, or planning an outing for patrons. Please note to serve you will have to undergo a background check and fill out an application
So we can group by "idea"
Adult men and Real Life Groups can serve men coming out of homeless situations. Located at 322 Front Ave, Grand Rapids, MI volunteers can serve a meal, play games with the men, lead a Bible study, or just sit down and chat. Exodus Place creates a sense of community, restores dignity, and removes obstacles that prevent men from contributing to society through training and accountability. Their website is www.ExodusPlace.org and/or contact Robin Batchelor 231-330-5405
This work has been established in Grand Rapids for the past 21 years and is working on extending its services to north Kent county. This organization works with homeless families to keep them together and house them for up to a month in a revolving host church until a home is secured. Teenage groups, singles or families can help with meal preparation, be a welcoming presence, help move a family into their new home, help rehab a place for a family or with financial donations. Their website is www.familypromise.org. It's a very helpful resource if looking for ways to serve
This organization serves lunch to 200-300 people on the 3rd Sunday of every month. It is an excellent opportunity for small groups aging 13 and up to do meal prep,serving and clean up from 1-5pm. Contact Lori Lynn at 616-780-6504 for more information
Children who are "aging out" of the foster home system are often facing homelessness all alone. This organization helps find adoptive families for these foster children. Website is www.grantmehope.org
This is a fantastic way for individuals or groups to give 2 hours on a rotational basis preparing sack suppers for nutritionally at-risk elementary grade students within the GRPS district. Contact Jerry Field at 616-450-0096
At www.nkconnect.org you , your youth group leader or any volunteer will find multiple ways to help people who feel stuck by the circumstances of life by providing access to basic needs and providing economic independence. NKC acts as a hub for people of north Kent county. They need: prayer, collection of toiletries and laundry detergent, donations of high quality, gently used home essentials, and clothing for their Thrift Store and food pantry. Financial donations welcome
This is the only Christian organization in Grand Rapids specifically targeting the homeless mentally ill. It helps them get off and stay off the streets. They need help with shopping for groceries, going to doctors appointments, cleaning their living space, and in general, having people in their lives they know really care about them. Training is available for all volunteers and there is close supervision. Contact 616-456-8512 to learn more
This ministry gets solar-powered audio Bibles into the hands of unreached people groups in an audio format for oral learners. Volunteers are needed at the Thrift store to help work the non-cash gifts program. Proceeds go to purchasing these audio Bibles. Groups can participate with coin collection boxes or clothing donation drop boxes.
These are Short-Term opportunities
Each April Tribes has the opportunity to unite with other tribes to beatify the west side of Grand Rapids. All ages are welcome to help. Lunch, music and fellowship follow the event. Interested? Contact Amber Jone
Camp Dagget Spring Clean Up
Each spring people of all ages, groups and families rally at this Lake Michigan shoreline camp to clean up before kids of the inner city start to do camps throughout the summer. Be a part of the loving kids in Jesus, process